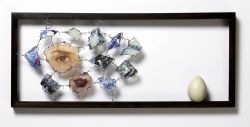 Emma Godebska
mixed media artist
G8
07975695043
emmagodebska@gmail.com
www.emmagodebska.com
It's all about relationships.
The ones we have with the outside world, how scary or comforting it can be.
The ones we have with others…people we love, people we meet by chance, who will mark us forever.
The ones that hurt….
And of course, the relationship we have with ourselves.
It's about communication too.
I work with found objects, because of the previous life they hold,
I use acrylic sheets because the material provides a great support for my visual fantasies.
I use wire and rope because they represent life and its complexities.
So it's a dialogue between an emotion and a found object, with me as a witness.
Click here to read blog entries about Emma.