http://lydiabauman.com/gallery/just-take-me-home-studio-sale/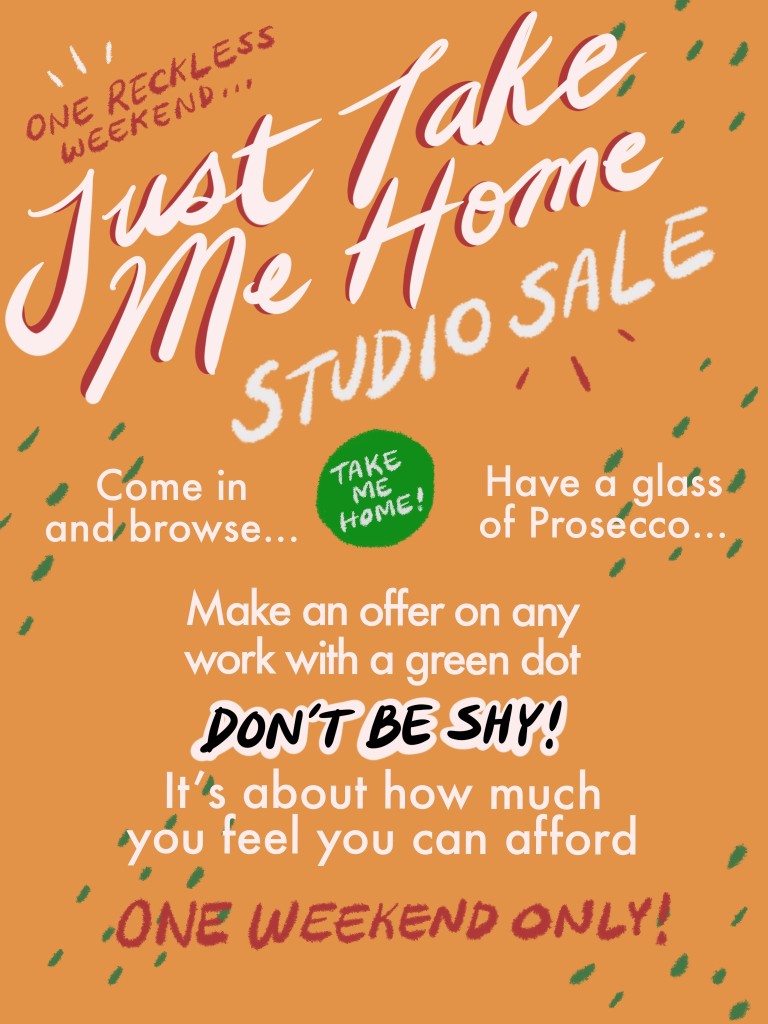 During our Open Studio weekend …
Just Take Me Home Studio Sale – one reckless weekend only – do not miss!
http://lydiabauman.com/gallery/just-take-me-home-studio-sale/ 
In an attempt to make space in my ever more congested studio at the Chocolate Factory, I'm holding a one-off Just Take Me Home Studio Sale
Many items – marked with a green dot – will never be exhibited again and just need a good home. For that reason, in a reversal of the usual practice, I'm not telling you how much you need to pay for a piece you love – you tell me.
If you see something you love enough to take home – make me an offer!
Chances are I'll accept, though if it seems a little … shall we say … unreasonable, we'll wait till the end of the sale to compare bids.
This is a one off opportunity to pick up a bargain from amongst rarely or never seen pieces from right across my career – from still life to landscape, from sketch to finished work, small and large, on paper, canvas and panel, in a variety of media, some highly experimental.
The inventory below contains a selection of what is available and you can make your bids from today or by visiting during Chocolate Factory Open Studios on 5-7 July.
http://lydiabauman.com/gallery/just-take-me-home-studio-sale/  
Please note – I'll be in my studio in person only on Saturday 6th July 11-4.
Private view night on Friday 5th (6-9pm) and Sunday 11-5 will be staffed by Molly – my lovely American intern.
Contact: lydia.bauman@googlemail.com
In September 2017 I travelled to Northern New Mexico to see for myself the places painted by the legendary Georgia O'Keeffe. I wanted to gain a better insight into the nature of her achievement as one of the most celebrated American painters of the 20th century. The art historian in me wanted to deepen my understanding of her work. The artist in me needed to challenge my own landscape painting practice. I was curious to find out how two artists working in different times, with different methods and techniques could do justice to that landscape. Georgia, who called it her 'backyard' painted it it situ, but on a small scale and in traditional oil on canvas. Can an artist, who has only a brief acquaintance with the region, working in London, but equipped with a set of experimental techniques, reflect the grandeur and local spirit of the land?
The journey and its revelations were beyond my wildest expectations.
I'm dedicating the next 10 months to creating a series of paintings in response to what I had seen, using my own unique mixed media technique with which I hope to capture the texture and spirit of the desert. It will be a period of experimentation and innovation, searching for new methods best suited to portray this most challenging of landscapes. It will culminate with a major solo show at London's prestigious Mall Galleries scheduled from 24 February to 2 March 2019.
GET INVOLVED – check out my Kickstarter campaign
I'm running a Kickstarter campaign in order to spread the word about this exciting project and gain support to help me complete the new series of paintings, frame and document them in an exhibition catalogue and finance the exhibition.. Your pledges will earn exciting awards in the form of, among others, signed prints, exclusive studio and National Gallery events, and original paintings.
The campaign runs till 31st July 2018
Please watch, please pledge, please be part of this journey and help me make it happen.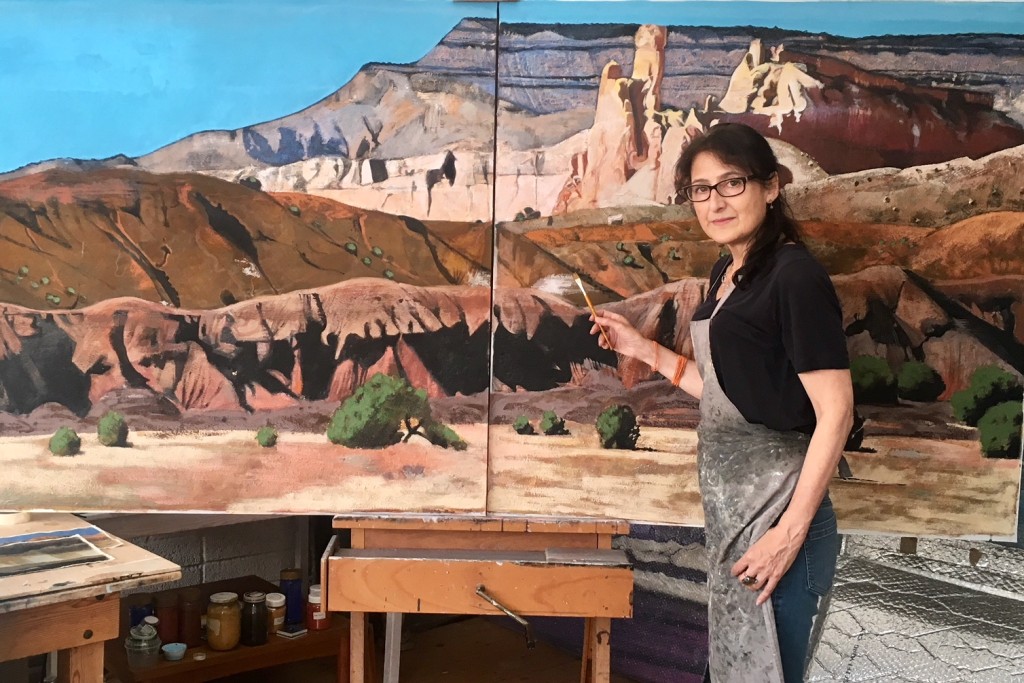 THANK YOU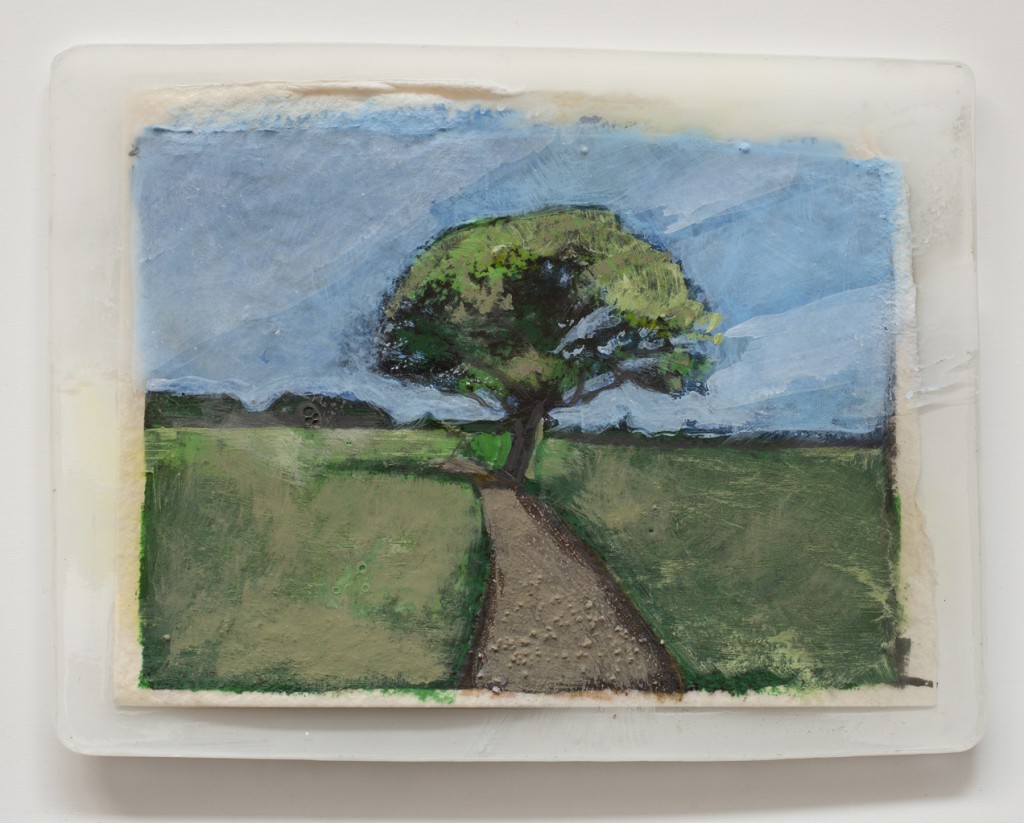 20″x16″
mixed media, paper set in resin, finished with plaster, wax, sand
an experiment for a painting without frame or glazing
light of the wall behind comes through the resin surround
https://youtu.be/DQObQi0ADNg