26 & 27 November 2016 Winter Open Studios 2016 and '13 Minutes With…' events inside many of the studios across the whole weekend. The Open Studio weekend is a wonderful opportunity to meet the craftspeople, artists and designers at  the Chocolate Factory; to see their creativity first hand, and often before anyone else, as it emerges inside the studio. The Chocolate Factory is a well-established community of workshops, which is home to many world-renowned creative practitioners. Well worth a visit. Our studio doors will be open to the public from 11am-6pm throughout the weekend of 26 & 27 November 2016.
13 Minutes With…. Events, Demonstrations and Happenings. All 13 minutes long  - visitors are welcome to stay as long as they wish after the presentation.
All events are Free.
The Timetable so far…
Saturday
12 Noon – Jo Davies will demonstrate wheel-throwing in porcelain. An opportunity to observe as well as ask questions of a specialist in this very tricky material. Studio G6
1pm - RUDE Studio F11 : Time Flies When You're Being Rude – 15 Years of Running a Creative Business, the Ups and Downs
2pm – Helen Rawlinson  will be screen printing new dinosaur tote bags in studio F5 with a chance for any dino fans to have a go. Children welcome!
3pm – Lydia Bauman Studio F9 – "Tips from Collectors' Homes: the Do's and Don'ts of Displaying your Paintings"  talk based on Lydia's rich but not always illustrious history of having her paintings displayed in collections both private and public.
4pm - Sarah Hyndman, studio F7 – Sarah will talk about 'Why Fonts Matter' and give you an exclusive preview of the illustrations for her next book, to be published by Laurence King next year.
5pm - Akiko Hirai, studio F3 –  "Food and Culture" Akiko is  Japanese and her talk will relate to her pottery practice.
Sunday 
12 Noon – Catherine Jacobs will give her talk "From the Mundane to the Sublime" Studio G14
2pm – Alex Blum will discuss her drawings of Dalston and beyond.  "Unfolding Space: Urban spatial structures and the passage of time in painting and drawing." Studio G10
3pm – Susan Nemeth – 'Making a Porcelain Still Life' – Susan will talk about her concepts, sources, drawings and techniques. Studio G4
4pm – Caroline Lambard – 'Crossing Dimensions' – a studio mini-discussion with installation artist Caroline Lambard and guest artists Rosalind Davis (http://www.rosalinddavis.co. uk) and Sasha Bowles (http://www.sashabowles.co.uk) , all of whose work crosses frequently between two and three dimensions .. and sometimes more.  All are welcome to join this open discussion. Studio G11
The wonderful Alibi Pantry pop up cafe will be joining us again this Winter to provide great food, coffee and sustenance as you work your way round the studios and events at the Chocolate Factory over the Open Studio weekend.
All welcome! Free Entry
About the Chocolate Factory
The Chocolate Factory N16 is part renovated, part purpose built. This intriguing hidden gem of 27 studios is home to a thriving community of artists and designer makers. Each individual studio has a life and character of its own, built around a pretty cobbled courtyard, nestled in a quiet residential street between Dalston and Stoke Newington. Open Studios Weekend is a unique opportunity to take a look behind the scenes, meet the artists and buy direct from their studios.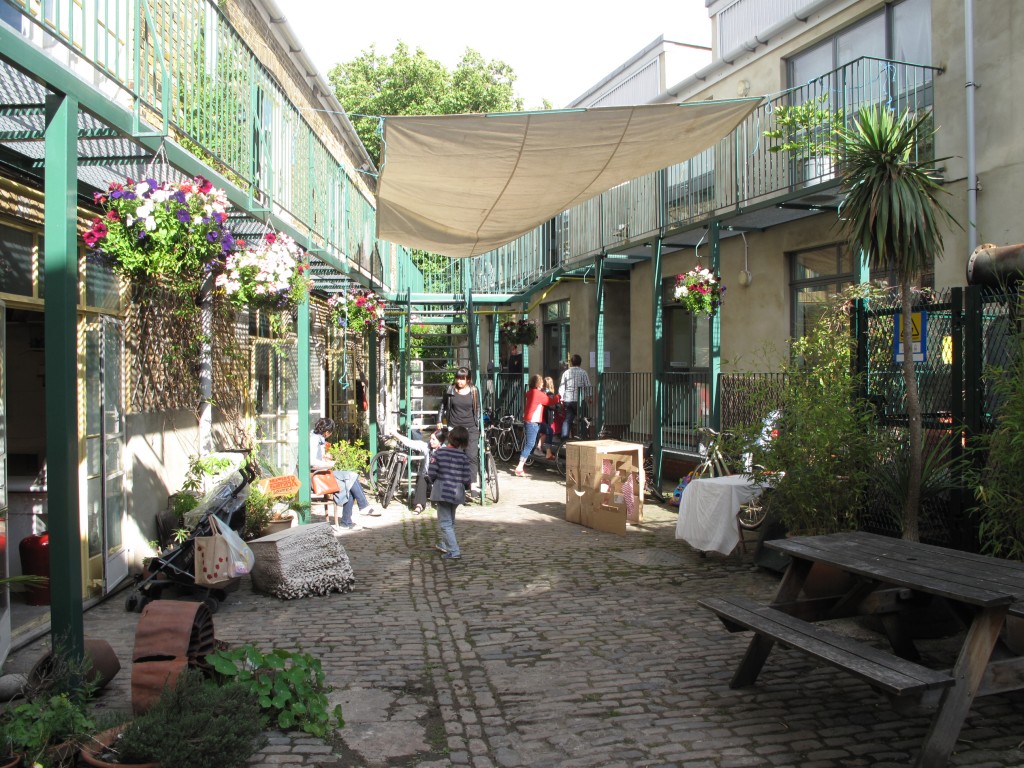 The Chocolate Factory N16, Farleigh Place, London N16 7SX chocolatefactoryn16.com facebook.com/ChocolateFactoryN16 twitter.com/OpenStudiosN16
Click here for previous blog entries about Open Studios
Save
Save
Save